More Downside for Oil in 2021 As Russia Scales Back Drilling?
October 16, 2020 at 11:32 AM EDT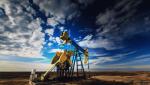 Oil would like to file 2020 away as quickly as possible, but with Q4 still left to go, is there upside ahead? Per a recent article in OilPrice.com, that may not be the case as Russia looks to scale back on its drilling. "Russian oil producers who have already reduced their drilling activity...