Live Remote IT Technicians Provide Fast, Contactless Help Desk Services with No Waiting, Driving Resolution and Positive Customer Experience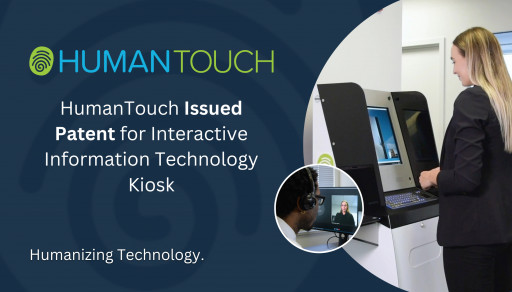 HumanTouch Issued Patent for Live IT Support Kiosk

Woman using kiosk to get computer help desk support, talking with live IT pro

TYSONS CORNER, Va. - January 17, 2023 - (Newswire.com)


HumanTouch announced that it was issued a patent for its Connect2IT! Kiosk by the U.S. Patent and Trademark Office (Patent No. 11,526,862 B2, titled, "Interactive Information Technology Kiosk"), strengthening HumanTouch's intellectual property position.

Currently deployed in federal agencies and campuses, the HumanTouch Connect2IT! Kiosk is the right solution for IT and CX teams to leverage an innovative approach to deliver exceptional service.  
"The Connect2IT! Kiosk is a unique service offering to Federal Agencies and vendors, providing Customer Experience (CX) service to agencies," said HumanTouch Senior Vice President Kelly Morrison. "The IT Kiosk improves CX and delivers users a personal 'touch' resolving device issues with an IT professional at their convenience."
Connect2IT! Kiosk bridges the gap between people and technology:
Staffed 24/7 by live, remote personnel in the U.S.
Provides self-service (contactless) IT support for laptops, mobile phones, and other devices
ADA & 508 Compliant
Integrates into agency security networks
Eliminates waiting time for IT support
Delivers Best-In-Class (BIC) customer service
Supports regional offices 
Delivers Executive Care 
Manages device replacement/inventory management
CEO Moe Jafari said, "As we continue to focus on humanizing technology, the Connect2IT! Kiosk delivers Best-in-Class CX that aligns agency service offerings to the President's Management Agenda and Executive Order 14058 goals. With each customer, we find new ways to use the kiosk to efficiently deliver mission outcomes and put time back into our clients' day."

Contact HumanTouch to optimize IT support within your organization, from Connect2IT! Kiosk, to Cross-functional Automated Resolution Technology, Incident Management, and other proven solutions.  

About HumanTouch: Human-centered technology solutions; advancing people, systems, and missions. We model and deliver explainable and adaptable digital transformation solutions to government and corporate customers. Our X-Factor teams collaborate with clients to leverage data science to unlock silos and provide transparency into your data and information. Accountable technology generates value and intelligence today and into the future. Learn about how HumanTouch strengthens effectiveness in the marketplace through explainable AI/NLP, business intelligence, industry knowledge, and customer success/experience. https://www.humantouchllc.com/ 


Contact Information:
Rebecca Churchill
Corporate Communications
rc@churchillcommunicationsllc.com
9175189789
Related Files
IT Kiosk Info 2023.pdf
HT Capabilities 2022 FINAL.pdf



Press Release Service by Newswire.com

Original Source: HumanTouch Issued Patent for Immediate Response Information Technology Kiosk