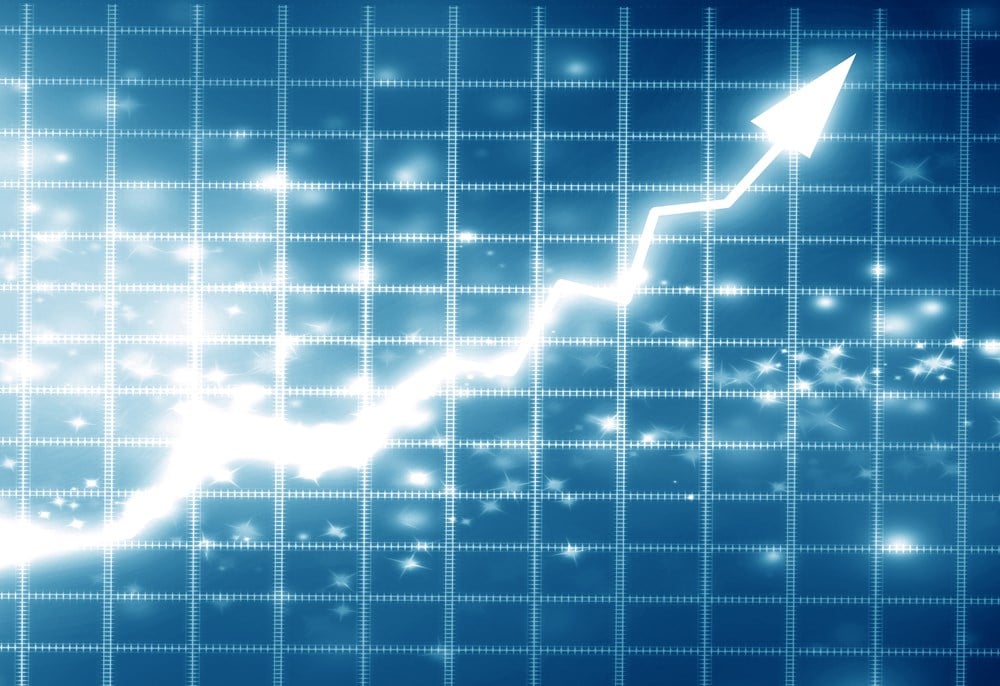 Robots choosing your food? Say it ain't so!
It may not be quite that futuristic (or dystopian, depending on your viewpoint), but Symbotic Inc. (NASDAQ: SYM) posted gains for six months in a row as investors cheer the company's AI-powered robotic and software platform for warehouse use.
In May, Symbotic announced a partnership with Associated Food Stores to implement Symbotic's A.I.-powered robotic warehouse automation technology in AFS' Utah distribution center.
According to the news release, "Symbotic's end-to-end automation system, with robotic case pick capabilities, will allow AFS' distribution center to improve a variety of retail-facing experiences, including overall supply, expanded selection and delivery of products to stores."
Symbotic stock has been on a rampage, posting the following returns: 
1 month: 24.17%
3 months: 101.71%
Year-to-date: 176.21%
Warehouse AI and robotic technology applications are becoming big business. 
Warehouses As Strategic Assets
According to its own description, "Symbotic reinvents the warehouse as a strategic asset for the world's largest retail, wholesale, and food and beverage companies."
The term "strategic asset" is telling. Symbotic goes on to say that it "enables companies to move goods with unmatched speed, agility, accuracy and efficiency." 
That's clearly a competitive advantage in an era where all customers, whether businesses or consumers, want their stuff now, not in a week. In the world of groceries and perishables, that's a "must have," not just "nice to have." 
According to news reports, Amazon.com Inc. (NASDAQ: AMZN) is starting to use AI technologies to identify damaged items before they are inadvertently sent to customers. The Wall Street Journal reported that Amazon has installed the technology at two fulfillment centers, and plans to implement it at 10 more in Europe and North America. 
If the AI identifies a possibly broken item, a worker checks it and makes the final decision. 
Reducing Human Decision-Making Burdens
So far, the technology doesn't appear to be replacing humans' jobs. In fact, an Amazon spokesman said one aim of the new technology was to reduce the cognitive decision-making burden on warehouse employees.
In part, automated warehouse systems are being implemented to help address the well-documented labor shortages.
Symbotic is a very young company. It went public via a merger with a special purpose acquisition company on June 7, 2022. You can spot that transaction, and the subsequent price rallies, using the Symbotic chart.  
Investment firm Softbank sponsored the SPAC. Walmart Inc. (NYSE: WMT) was also an early backer of the company, and still maintains significant ownership in Symbotic. 
Trading At New Highs
Symbotic stock rallied to a new high on May 30, then pulled back to find support at its short-term 100-day moving average. The stock has some volatile intra-day and intra-week price swings, largely because there are a relatively small number of shares in float. 
Large customers include not only Walmart, but also Albertsons Companies Inc. (NYSE: ACI), Target Corp. (NYSE: TGT), Canadian discount chain Giant Tiger, and C&S Wholesale Grocers, which is one of the largest grocery wholesalers in the U.S. and an affiliate of Symbotic.
MarketBeat earlier reported that Symbotic has been the subject of analyst upgrades. 
Symbotic analyst ratings show six price target increases since the company reported second-quarter results on May 1.
Consensus Is "Moderate Buy" 
Analysts have a consensus view of "moderate buy," although going by their price target of $28.77, they are expecting a pullback after the strong rally in recent months. A pullback with moving average support could offer a new buy opportunity. However, the stock may be overdue for a retreat into a constructive base, which could eventually put the stock's price at more attractive entry levels. 
As a young, fast-growing company, Symbotic has yet to turn a profit, although revenue grew at triple-digit rates in six of the past eight quarters. Wall Street expects the stock to narrow its loss this year, and then report earnings of $0.13 a share in 2024. Analysts recently revised their 2024 forecasts higher.