SALT LAKE CITY, Feb. 07, 2023 (GLOBE NEWSWIRE) -- Overstock (NASDAQ: OSTK), a leading online furniture and home furnishings retailer, announced a new partnership today with Citi Retail Services, one of North America's largest and most experienced retail credit solution providers, to offer customers digital-first benefits and rewards through a co-branded Overstock Mastercard®.

Beginning today, customers who apply and are approved for the new Overstock Mastercard can earn:
5% back in Club O rewards on Overstock.com
3% back in Club O rewards on apparel and department store purchases
2% back in Club O rewards on gas purchases
1% back in Club O rewards on all other qualifying purchases1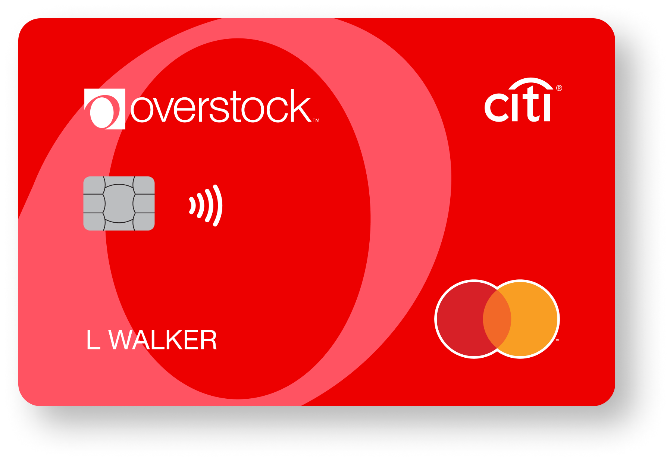 Additionally, the new Overstock Mastercard comes with exciting new features:
No annual fee.2
Special financing up to 60 months on qualifying purchases.
Complimentary membership to Overstock's rewards program, Club O (a $19.95/year value). Club O membership provides access to extra rewards, free returns, price match guarantee, double rewards for reviews, and more. Click here to learn more about Club O.
Can be used anywhere Mastercard is accepted.
Security features, including real-time purchase notifications and account alerts.

"As a customer-focused online retailer, we're always exploring new ways to better provide smart value," said Jonathan Johnson, CEO of Overstock. "This partnership with Citi Retail Services advances our vision of 'Making Dream Homes Come True' by delivering extra savings through special finance offerings, Club O rewards on all purchases, and an easy and enjoyable shopping experience. This credit card rewards Club O members – our most loyal customers – with exciting new benefits that we expect will encourage even greater loyalty to Overstock."
"Our new partnership with Overstock and Mastercard reinforces our strategy to continue to add digital-first retailers to our Citi Retail Services portfolio," said Kartik Mani, Head of Citi Retail Services. "With this partnership, we can provide exciting rewards for digitally savvy and active Overstock customers who are looking to be rewarded for their loyalty. We're thrilled to be able to maximize the value of their purchases, while offering a seamless checkout and rewards experience."
"Mastercard is proud to partner with Citi Retail Services and Overstock to provide consumers a payment product that delivers on their everyday shopping needs with innovative technology and security," said Linda Kirkpatrick, President of North America at Mastercard. "With the Overstock Mastercard, we are excited to fuel cardholders' passion for home décor and add value to every transaction with Mastercard benefits and services."
To learn more about the new Overstock Mastercard, please visit: Overstock.com/creditcard.
About Overstock
Overstock.com, Inc. (NASDAQ:OSTK) is an online furniture and home furnishings retailer and technology-focused innovator based in Salt Lake City, Utah. Its leading e-commerce website sells a broad range of new home products at low prices, including furniture, décor, area rugs, bedding and bath, home improvement, and more. The online shopping site features millions of products that tens of millions of customers visit each month. Overstock regularly posts information about the Company and other related matters on the Newsroom and Investor Relations pages on its website, Overstock.com.
O, Overstock.com, O.com, and Club O are registered trademarks of Overstock.com, Inc. Overstock and Making Dream Homes Come True are trademarks of Overstock.com, Inc. Other service marks, trademarks and trade names which may be referred to herein are the property of their respective owners.
Cautionary Note Regarding Forward-Looking Statements
This press release contains certain forward-looking statements within the meaning of Section 27A of the Securities Act of 1933 and Section 21E of the Securities Exchange Act of 1934. Such forward-looking statements include all statements other than statements of historical fact, including but not limited to statements regarding the partnership with Citi Retail Services and expected increases in customer spending. Additional information regarding factors that could materially affect results and the accuracy of the forward-looking statements contained herein may be found in the Company's Annual Report on Form 10-K for the fiscal year ended December 31, 2021, which was filed with the SEC on February 25, 2022, our Form 10-Q for the quarter ended March 31, 2022, which was filed with the SEC on May 4, 2022, our Form 10-Q for the quarter ended June 30, 2022, which was filed with the SEC on August 2, 2022, our Form 10-Q for the quarter ended September 30, 2022 which was filed with the SEC on November 1, 2022, and in our subsequent filings with the SEC.
About Citi
Citi is a preeminent banking partner for institutions with cross-border needs, a global leader in wealth management and a valued personal bank in its home market of the United States. Citi does business in nearly 160 countries and jurisdictions, providing corporations, governments, investors, institutions and individuals with a broad range of financial products and services. 
Additional information may be found at www.citigroup.com | Twitter: @Citi | YouTube: www.youtube.com/citi | Blog: http://blog.citigroup.com | Facebook: www.facebook.com/citi | LinkedIn: www.linkedin.com/company/citi
Citi Contact
Courtney Klopfer
courtney.klopfer@citi.com
1 Terms and Conditions apply. See Overstock.com/creditcard for details.
2 As of December 20, 2022, the APR for purchases is 31.24%, and the APR for balance transfers is 31.24% if completed within four months from date of account opening. These APRs will vary with the market based on Prime Rate. The APR for cash advances is 29.99%. The Minimum Interest Charge is $2. The cash advance fee is 5% of each transaction; minimum $10. The balance transfer fee is 5% of each transaction, minimum $10, and the transaction fee for foreign purchases is 3% of each purchase transaction in U.S. dollars. Visit Overstock.com/creditcard for card details and applicable terms and conditions.
A photo accompanying this announcement is available at https://www.globenewswire.com/NewsRoom/AttachmentNg/56029a06-e7c9-4bdb-a65f-e5d6530e4f69